WELCOME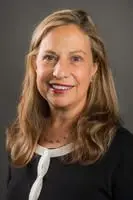 Dr. Rubin is a board certified psychiatrist with extensive training in Child Adolescent and Adult Psychiatry. For three consecutive years, Dr. Rubin has been recognized by Washingtonian's "Best Doctors" as one of the metropolitan areas leading experts in psychiatry. Her detailed orientation, training and experience create precision treatment for patients and their families. Dr. Rubin's specializations include anxiety, depression, attention deficit disorders, eating disorders, learning disabilities, OCD, parenting, divorce, grief, mood disorders, and developmental disorders
Dr. Rubin completed her training in Adult Psychiatry at Saint Elizabeth Hospital in Washington, DC and her Child and Adolescent training at Children's Hospital National Medical Center in Washington, DC. She served as the Director of Children's Hospital Satellite Clinic in Fairfax, VA, and completed training in psychotherapy at the Washington Psychoanalytic Institute and the Baltimore Washington Institute. Currently she is continuing her training in advanced cognitive therapy and is an Assistant Clinical Professor of Psychiatry and Behavioral Science at George Washington University. She is the recipient of the prestigous Eli Lilly Award for her work on attachment disorders.
Dr. Rubin's focus on continued training keeps her on the cutting edge of neuropsychiatry and advanced procedures. Dr. Rubin works in a collaborative style with the patient's caregivers, doctors, and all involved professionals.

Dr. Rubin offers a solid base of vast clinical experience in combination with psychotherapeutic and pscychopharmacologic interventions.
Dr. Rubin does not have any contract with any insurance providers, you can read more about this by clicking here.
Click here to read Dr. Rubin's latest blog post!
For more information about Dr. Rubin's specialties, you can call 301-654-0285 today. Dr. Rubin offers online and in person appointments.